2017 Isuzu NPR vs Mitsubishi Fuso
---
Performance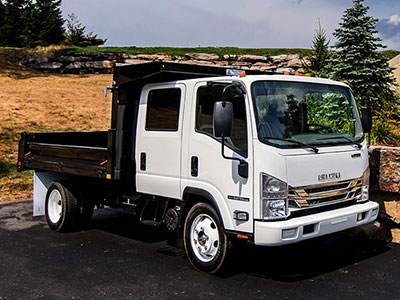 The Isuzu NPR is the only gasoline-powered low cab forward truck on the road, which gives it a unique advantage over the competition. If you're shipping cargo down the coast, you won't have to worry about locating a diesel pump to keep you going. The NPR's low-end torque gets you moving in a snap, no matter how heavy your payload.
The Mitsubishi Fuso's diesel engine offers some serious torque, and pulling heavy loads feels pretty effortless. However, its engine output isn't quite as high (161 horses versus 297), so it doesn't give you the same pep as the NPR.
Gross Vehicle Weight Rating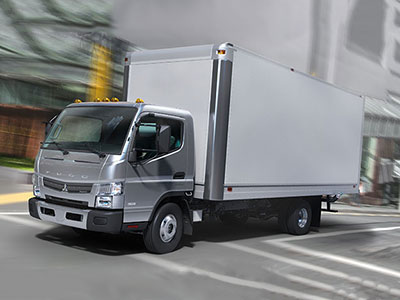 Depending on which model you select, the Fuso's gross weight rating ranges from 13,200 to 17,995 pounds. With that kind of power at your command, transporting heavy loads of pay dirt is never an issue.
The 2017 Isuzu NPR isn't far behind, with some serious capabilities of its own. It's capable of moving between 12,000 and 14,500 pounds, depending on which model is right for your needs. While the NPR may not match the Fuso's max GWVR, it's still a great pick for drivers who don't need the extra heft. It's better to choose a truck that meets your needs, rather than exceeds them, because you don't want to leave an unnecessarily big footprint on your bank account.
Interior Space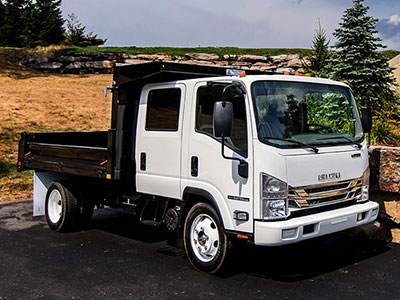 The NPR's clean-cut dash and roomy comfort are a welcome addition to your daily ride. You'll find all the control buttons well within reach, so the dash feels as functional as the truck as a whole. When you choose the crew cabin, the NPR plays host to your work crew, with plenty of head and leg room to go around.
In the Mitsubishi Fuso, blue cloth seating gives the cabin a friendly look and keeps you comfortable for the long haul. As in the NPR, you'll find convenience features like electric-powered windows and keyless entry. They save time so you can focus on more important things.
Safety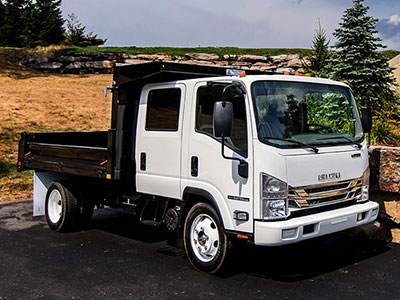 With the NPR's 24-hour roadside assistance program, you can put your worries aside. Instead of finding yourself stuck in the middle of nowhere, Isuzu will send a tow truck to get you to the nearest dealership for service. Whatever happens, you'll be back on the road in no time.
Similar to the NPR, the Mitsubishi provides all the safety basics. Anti-lock brakes deliver massive stopping power and impressive driver control. Crush bars in the side doors increase structural support, and therefore passenger safety, during an accident.
Learn More about the NPR

While both medium-duty trucks have a lot to offer, the 2017 Isuzu NPR is a segment standout. Its classic cabin design is functional and comfortable, so you can spend hours on the road in style. The NPR is also supremely capable, with a max GVWR of 14,500 pounds. Whether you're making deliveries or hauling heavy-duty machinery, this truck is ready to get the job done. On the road, its low-end torque gets you off to a great start, no matter how much weight you're moving.