In medium-duty cutaway trucks like the 2017 Isuzu NQR or Hino 195, you have some serious power at your command. With heavy-duty frames and massive hauling capabilities, these trucks are designed to tackle major jobs. Which offers the best boost for your bottom line? Read our comparison guide to learn more.
2017 Isuzu NQR vs Hino 195
Performance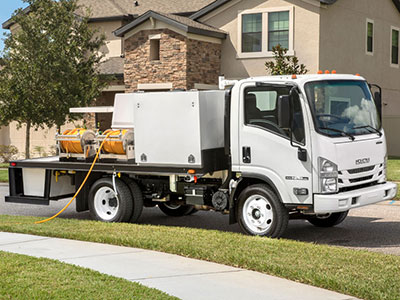 With its turbocharged, intercooled diesel engine, the NQR churns out 215 horses and a healthy 452 pound-feet of torque. Depending on configuration, the NQR payload allowance is between 10,680 and 11,461 pounds. Any way you look at it, your company is ready to haul major cargo, including construction supplies.
Of course, the Hino 195 was also designed for serious hauling duty. Like the NQR, its 30-gallon gas tank keeps you chugging down the highway for hours on end. However, with only 210 horses and 440 pound-feet of torque, the Hino 195 engine output is slightly behind the curve.
Gross Vehicle Weight
Here, the Hino 195 pulls ahead. With its massive gross vehicle weight rating of 19,500 pounds, it's ready to haul whatever you need to haul without a hiccup. Even weighed down with a massive payload, the Hino 195's diesel powertrain makes sure you get to your destination with ease.
Still, with a gross vehicle weight rating of 17,950 pounds, the NQR has more than enough utility for most. It is designed to meet your company's hauling requirements, moving serious weight like a true professional. You'll be transporting cargo without a second thought, essential for any business considering one of these heavy hitters.
Cabin Comfort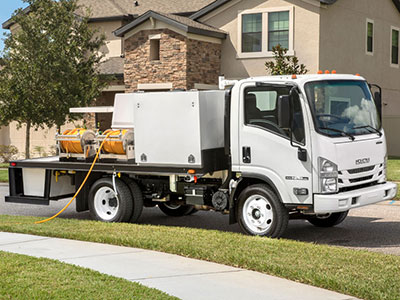 With the NQR, you can choose between the regular and crew cabs. With the latter, you can treat passengers to two rows of roomy seating. Both, however, supply the kind of supportive seating you need on the road. For companies that log hours and hours of highway time, the 2017 Isuzu NQR is the best pick for long-term comfort.
The Hino 195 offers regular and extended cabin options. The regular cabin provides supportive seating for two passengers. The extended double cabin offers backseat space, though it's not quite as roomy as the NQR's crew cab.
Safety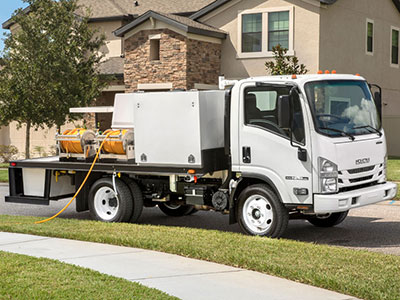 In the NQR, safety is a major priority. The 24-hour roadside assistance services are a huge plus for any company, quickly remedying unexpected breakdowns so you can get back on schedule. With Isuzu's priority service maintenance program, you can make sure your NQR runs smoothly far into the future.
During its first three years on the road, the Hino 195 also provides roadside assistance. These services will put your mind at ease as your Hino 195 ranges far afield on delivery runs. This model also offers a priority service maintenance program so you can keep careful tabs on performance. However, Isuzu provides additional maintenance options, such as substitute vehicles and brake replacements for increased performance support.
Learn More about the NQR

Both of these medium-duty cutaway trucks are designed to haul heavy payloads successfully to their destinations, but we think the 2017 Isuzu NQR has the most to offer. Its powerful diesel engine provides a smooth, powerful performance. Roadside assistance features help you maintain a tight schedule. And, with Isuzu's maintenance program, it's easy to keep up with oil changes and brake jobs. Best of all, you can choose between the regular and two-row crew cabin for the passenger space you require.