Diesel-powered medium-duty cutaway trucks – like the 2017 Isuzu NQR and Mitsubishi Fuso Canter FE130 – offer priceless business solutions. Their sturdy frames and incredible hauling capabilities help you move heavy cargo across town or up and down the coast. Which model is right for your needs? Check out our comparison guide to find out.
2017 Isuzu NQR vs Mitsubishi Canter FE130
Performance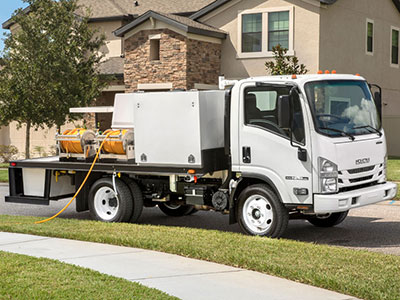 In the NQR, the 5.2-liter diesel engine delivers 215 horsepower and 452 pound-feet of torque for a strong, capable ride. Even with a full payload aboard, your NQR moves full steam ahead without hesitation.
The Mitsubishi Fuso Canter FE130 uses a 3.0-liter diesel engine to generate 161 horses and 295 pound-feet of torque. The NQR supplies greater power, but the FE130 is still plenty capable, moving heavy loads with smooth confidence.
Gross Vehicle Weight Rating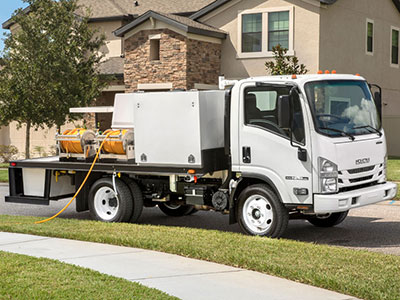 In the NQR, the gross vehicle weight rating is 17,950 pounds. And, with so many upfitting options, you can tailor this capable cutaway truck to perform a number of heavy-duty tasks, hauling everything from retail cargo to actual pay dirt.
The Mitsubishi Fuso Canter FE130 follows with a gross vehicle weight rating of 13,200 pounds. It's designed for companies with lesser hauling requirements, but it still moves serious weight like a true professional. You can even outfit your FE130 to haul major construction supplies.
Cabin Comfort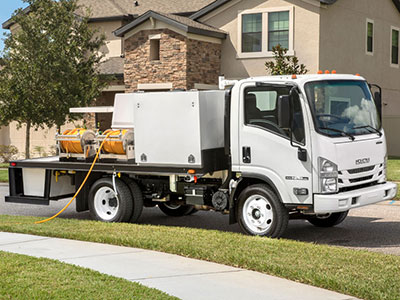 In the NQR, you can choose between regular and crew cab options. With the crew cabin, passengers can spread out over two roomy rows of seating for generous comfort on long trips. If you don't need an entire crew to get the job done, check out the regular cabin, which provides ample head and leg room for driver and passenger.
The Mitsubishi Fuso Canter FE130 provides plenty of cabin space for two, so long highway rides won't feel cramped. However, if you want the extra accommodations you get with a crew cabin, you're going to have to upgrade to the more powerful FE160 model, as the FE130 doesn't offer one.
Safety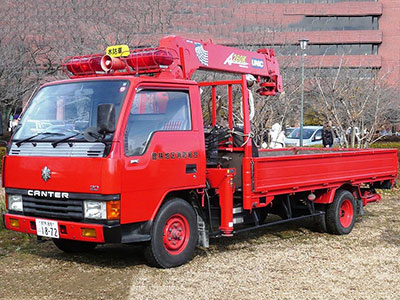 Unlike many competitors in this segment, the Mitsubishi Fuso Canter FE130 offers high-tech driver aids to help you stay safe on the road. These include lane departure warning, which lets you know if you've strayed outside the proper lines. When you're travelling through busy streets, the pedestrian alert feature helps you avoid accidents.
We like the NQR's roadside assistance program, which provides a quick fix to unexpected problems. If you've got a flat tire, you'll be up and running again in no time. For bigger problems, Isuzu will tow you to the dealership for maintenance and repair. However, the NQR has yet to offer high-tech driver aids for maximum on-road vigilance.
Learn More about the NQR

Both of these medium-duty cutaways use powerful diesel engines to haul massive payloads, but the 2017 Isuzu NQR leads the way with greater engine output and bigger weight ratings. It also provides two cabin options, crew and regular. Choose the crew cabin to bring along a few helpers on major jobs. And, in the NQR, you even get roadside assistance for help when you need it most. When you're looking for the best bang for your business buck, the 2017 Isuzu NQR is your best buy.