2019 Isuzu FTR
You can upfit the 2019 Isuzu FTR to do just about anything, from making company deliveries to transporting heavy construction materials. This low cab forward truck does more than haul serious supplies, however. It also offers a maneuverable ride and bottom-line-boosting warranty coverage. Under the hood, you'll find a diesel powertrain designed to tackle big jobs with impressive skill. Read on to discover just what else the FTR can do for you.
Who Needs the 2019 Isuzu FTR?
If your company has heavy equipment to haul or major deliveries to make, you need the FTR. This truck stands out in a number of ways, starting with its utility-friendly design and long list of upfitting options.
With its flexible low cab forward design, the FTR offers a leg up on the competition. Because the engine is under the cab instead of in front of it, drivers enjoy impressive front visibility. This design also enhances maneuverability, making the FTR an excellent option for businesses who make a lot of downtown deliveries. Companies who value peace of mind will appreciate Isuzu's class-leading warranty. With its powertrain, tire, and rust coverage, you can keep your FTR running smoothly for years.
Is the 2019 Isuzu FTR Gas or Diesel?
Diesel! Under the hood, you'll find a turbocharged 5.2-liter four-cylinder diesel engine. Diesel power give you the extra torque you need – 520 pound-feet of torque, to be exact – to haul heavy loads around town. With 215 horsepower, this engine also gives you plenty of get-up-and-go.
What's the 2019 Isuzu FTR GVWR?
Upfitting is easy with the Isuzu FTR, thanks to its low cab forward design and impressive gross vehicle weight rating. With a GVWR of 25,950 pounds, you can tailor this truck to suit your company needs, creating everything from a refrigerated delivery truck to a dump truck.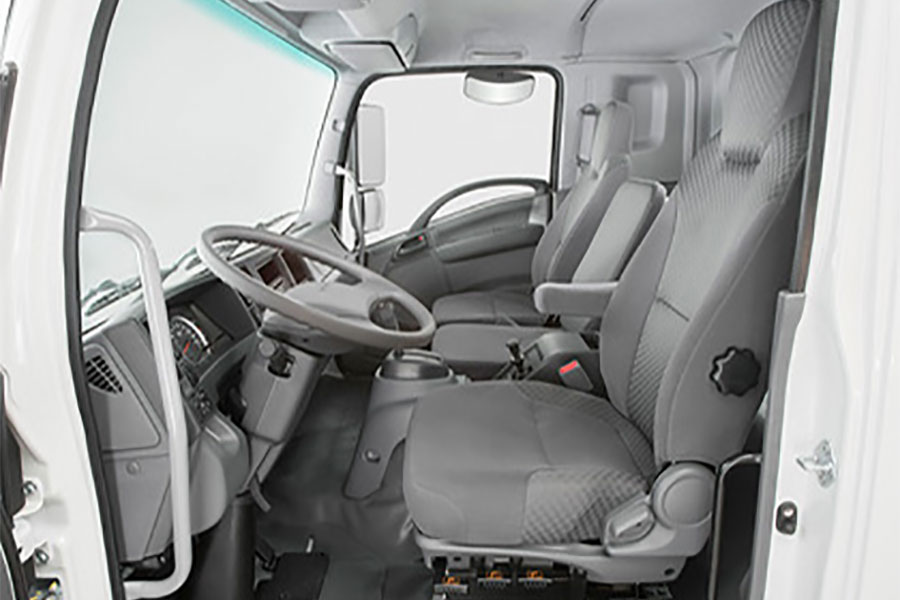 What's Inside the Cabin?
When you need to make major deliveries, the FTR cabin transports three employees with elbow room to spare. It's also great for when you need to spend hours on the road, offering spacious, supportive accommodations and an impressive range of compartments for carry-on items like wallets and smartphones. Both passenger doors open a full 90 degrees for graceful exits and entrances.