2019 Isuzu NRR vs Hino 195
If you're shopping for a Class 5 diesel truck, the 2019 Isuzu NRR and Hino 195 are probably high on your wish list. Which one should you choose? Our comparison guide is here to help you sort out the facts.
Heftiest GVWR: It's a Tie!
The 2019 Isuzu NRR and Hino 195 match each other's capabilities pound-for-pound. Both of these Class 5 diesel trucks have a gross vehicle weight rating (GVWR) of 19,500 pounds and a gross combined weight rating (GCWR) of 25,500 pounds. No matter how you plan to upfit your Class 5 commercial truck, you can expect big things from both of these models and should be able to meet your cargo hauling needs.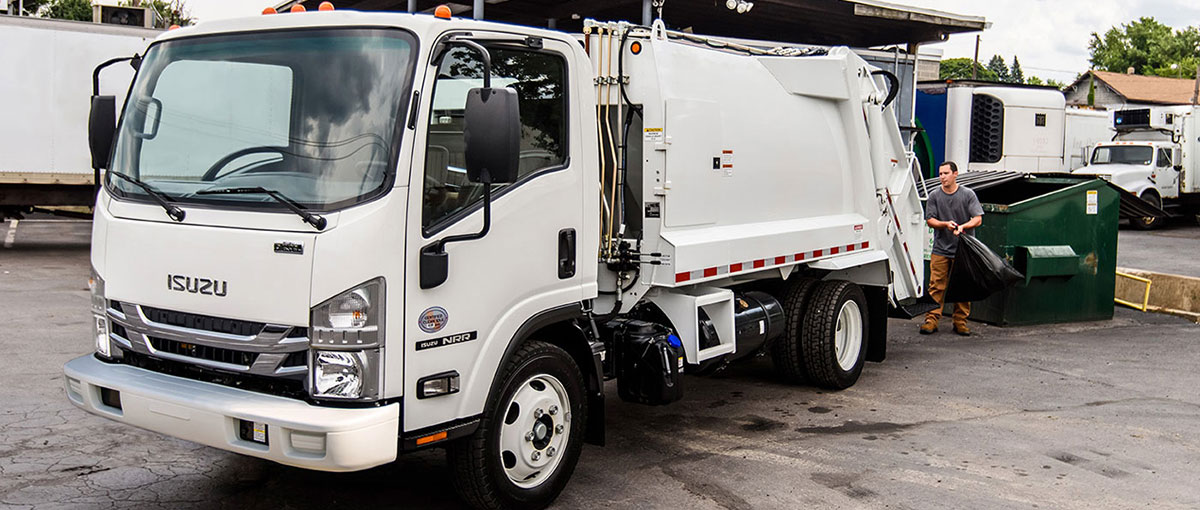 Most in Power: 2019 Isuzu NRR
Here, the NRR takes a definitive lead. The NRR's 5.2-liter turbodiesel engine generates 215 horsepower and 452 pound-feet of torque. As a bonus, when you transport heavy cargo, the NRR is quick to respond to driver input. The Hino 195 derives its power from a diesel inline-4 rated for 210 horses and 440 pound-feet of torque. That may not sound like much of a difference, but you're sure to notice the strain when you've got a full load of cargo.
Modern Convenience: 2019 Isuzu NRR
The NRR also has the edge here. The dash-mounted oil level check switch and light will help you keep good care of your truck. The tilt-and-telescoping steering wheel helps drivers of all shapes and sizes get comfortable. It's also easy to get in and out of the cabin, thanks to the grab handles and doors that open 85 degrees. Because the NRR accommodates 10-to-24-foot bodies, you have a lot of leeway in terms of upfitting.
The Hino 195 can match some of the NRR's convenience features, such as the tilt-and-telescoping steering wheel. The Hino's cabin also features overhead compartments, so you'll never misplace your wallet. However, the Hino's doors don't open as wide – only 80 degrees.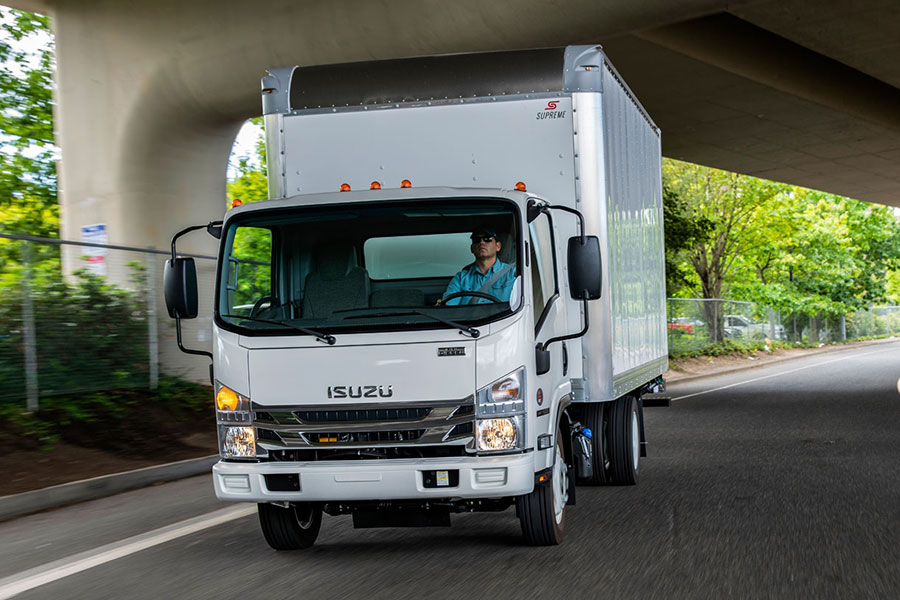 Drivers' Pick: 2019 Isuzu NRR
Drivers love the Isuzu NRR's excellent maneuverability. The 49.5-degree wheel-cut angle provides the tight turning skills you need to make downtown deliveries. Both cabin options – regular and crew – offer roomy, supportive seating, which is exactly where drivers want during an eight-hour shift.
Like the NRR, the Hino 195 offers all the basic amenities. These include air conditioning and power windows and door locks. The Hino 195 even provides Bluetooth connectivity, so you can stream audio options from your favorite device. The Hino 195 also offers the same two cabin configurations, regular and crew. We definitely like the options that the Hino offers, but we're not sure they're totally necessary for this type of vehicle. The priority should be how the truck handles, since these trucks are made to be on the road all day long. The NRR, therefore, has the edge in terms of maneuverability.
In the end, the 2019 Isuzu NRR is our first pick for a diesel-powered Class 5 low cab forward truck. This model delivers the most powerful engine, helping you lug around heavy loads in style. The NRR also offers a number of comfort and convenience features, making it a favorite among drivers. Most importantly, with its ability to be easily upfitted and its wheel-cut angle, the NRR is easier to drive and maneuver even in challenging circumstances. Come see us at Isuzu of Lehigh Valley so we can help you match your business needs to the right Isuzu truck.
SEO CONTENT PROVIDED BY